ADAC and ANWB award Camping Village Dei Fiori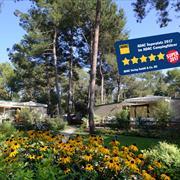 ADAC and ANWB award the ADAC SUPERPLATZ 2017 and ANWB ERKENDE TOP CAMPING 2017 titles to Camping Village Dei Fiori again in 2017.
Year after year, the Camping Village Dei Fiori gets confirmation of its quality, both in terms of services and the reception of its guests. Our establishment has recently obtained 5 stars, the highest rating awarded by the ADAC, as well as the ANWB prize ERKENDE TOP CAMPING 2017.
These awards certify the attainment of top quality standards by tourist accommodation facilities, and are only given to the best European campsites. The prizes involve a careful process of selection and subsequent inspections by appointed personnel for the guides by ADAC, Automobile Club of Germany, the biggest in Europe, with over 17 million members, and ANWB, Dutch automobile club with over 4 million members.