Camping Village Dei Fiori is at the forefront in the restoration of the Venetian Arsenal's Lion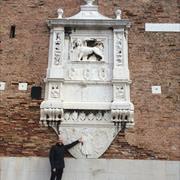 Camping Village Dei Fiori strengthens its relationship with Venice. The resort in Cavallino Treporti will, in actual fact, be taking the lead in the restoration of the "Il Leone dell'Arsenale" bas relief on the outer façade of the perimeter wall of Venice's Arsenal.
The restoration work will be completed by the end of July. The project plans to return the bas-relief, portraying the symbol of the city, to its former glory, in what is not just one of the most important historical places in Venice, but also one of great significance from a touristic point of view.
With this endeavour Camping Village Dei Fiori aims to reinforce the historical relationship that links our resort to the capital of our region, by taking the lead in the conservation and recovery of one of the city's leading attractions.