Camping Village Dei Fiori on tour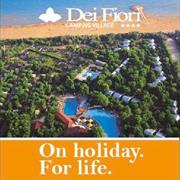 On holiday for life. Experience the energy of the Camping Village Dei Fiori, not just in summer, but also during the leading tourism and leisure fairs.
If you want to get into the spirit of a holiday with us, come and visit us:
14 to 22 January 2017 at the CMT in Stuttgart (Germany);
22 to 26 February 2017 at the F.re.e in Munich (Germany);
24 to 26 February 2017 at the Ferie for Alle in Herning (Denmark);
25 to 26 February 2017 at the Liberamente in Ferrara (Italy);
17 to 19 March 2017 at the Children's Tour in Modena (Italy);
28 April to 1 May 2017 at the Tempo LIbero in Bolzano (Italy).
We look forward to seeing you!