Our Beach is Child-Friendly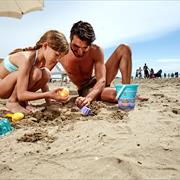 The Green Flag will continue to wave on the beach of Cavallino. This prestigious award goes each year to the best italian beaches that perfectly meet the security standards for the "under 18s", in order to become real child-friendly beaches.
Our littoral earned this award thanks to its clear water and low water mark next to the shore, its clean sand, the lifeguard supervision, the colorful games for children and the proximity to several ice-cream parlors, restaurants and bars to have an aperitif.
Since 2013 the Green Flag has been placed next to the Blue Flag to point at the excellent quality of the services for families who decide to come on holiday in Cavallino Treporti.