Sport
Outdoor activities: a craving that you have been feeling all year is finally within your reach on holiday in Cavallino.
Windsurfing, swimming, diving, canoeing… beach volleyball, tennis, soccer, basketball, table tennis, mini golf : these are just some of the sports that can be practised at Camping Village Dei Fiori.
Whether you want to maintain your keep-fit routine or take advantage of your free time to enjoy some extra workout, the Fitness Centre of the Village offers a full range of quality modern equipment, while the Fitness Club offers the possibility to choose among the many daily group activities conducted by professional instructors: aerobics, step aerobics, water aerobics, spinning, zumba and more.
For lovers of slower rhythms there are muscle toning, yoga or pilates sessions to fill up on positive energy before a day at the beach or a fun-filled evening.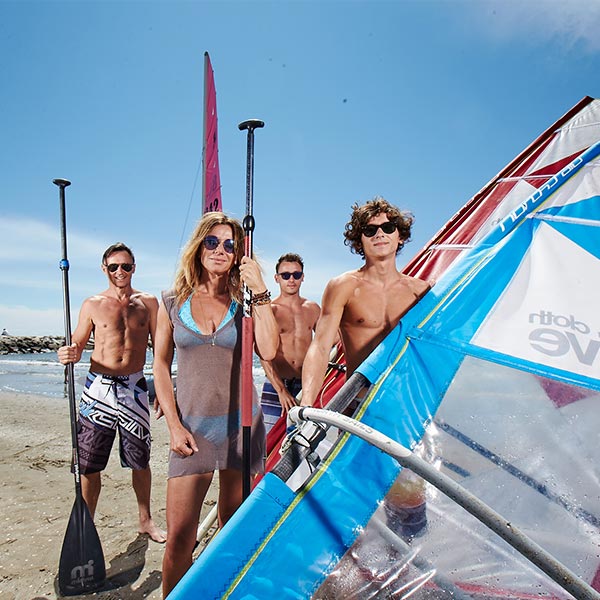 Sporting Club
Camping Village Dei Fiori offers its guests the facilities and equipment to practice a wide range of sports: from tennis to five-a-side football, from basketball to beach volley, from table tennis to mini-golf.
If you're looking for fun and games with a touch of competitiveness just sign up for one of the many tournaments organised daily by our sports instructors.
There is a special programme with walks and bike rides for the boys and girls in our Junior Club (11-15 years).
Fitness Club
If you want to keep fit while having fun, why not take part in one of the many daily aerobic sessions held by our professional instructors.
At Camping Village Dei Fiori you will find out that a seaside holidays affords plenty of opportunities to get fit and regain your physical strength. Practicing Aerobics, Step, Aqua Gym, Spinning or Zumba will come easy and natural with the lessons on offer at the Village Fitness club.
If your body needs more natural rhythms, why not take part in our morning warm-ups and yoga sessions held by our professional instructors.
Windsurf
At Camping Village Dei Fiori you can sign up for courses at the "Little Maui" surf school, managed by the Kainz family team. You can attend windsurfing courses of all levels, have fun with the catamaran, the Stand up paddle, or relax with Sup Yoga in the water. Those who are experts in these disciplines can rent the equipment.
The licences issued by the international association VDWS to which the Little Maui is affiliated, are recognized worldwide and are also valid for the rent of windsurfing equipment.
Diving
Camping Village Dei Fiori is also a PADI centre. Participating in diving courses offered by the "Venice Diving" school, managed by Daniele Comin, you can learn to dive to the sea bottom, explore fascinating wrecks of World War II and discover the ecosystems generated by the "tegnùe", extraordinary underwater rock formations.
The diving center offers PADI courses at all levels, including EFR courses up to instructor level.
Canoeing
That's not all: thanks to the exclusive landing stage on the Venice lagoon, reachable in a few minutes via the new cycle path, Camping Village Dei Fiori offers its guests unforgettable canoe trips along the valleys and canals of the lagoon, in a silent protected environment, the home to a diversified bird life.
Swimming School
Breaststroke, backstroke, butterfly, freestyle. The swimming school of Camping Village Dei Fiori has been active for almost thirty years and many guests who enrol their children today, first became acquainted with the water in our pool with our legendary teacher "Roman". At the end of each swimming course, participants are awarded the "glass dolphin", the school symbol certifying the level reached.
Fitness Center
If you're a regular gym visitor at home, there's no need to change your habits when you're on holiday in Cavallino!
The Fitness Centre at Camping Village Dei Fiori has a complete range of the latest leading Technogym equipment. You can do your work-out in peace and safety, followed by a relaxing jacuzzi in the neighbouring swimming pool.