Chalet Sole Six Beds
The accommodation unit particularly suitable for family holidays and group of friends
Designed for larger families or groups of friends, the Chalet Sole Six Beds units have two twin bedrooms in addition to the master double bedroom. The living area and the outside area are in the same style as that of our Chalet Sole units, with a large wooden decking overlooking the pine forest.
The units are available with one or two bathrooms. In addition to the distinguishing feature of two bathrooms, units with an additional twin bedroom are available for larger families.
Prices from 98,00 Euro per night (low season).
Arrival and departure days: Wednesday or Saturday (Chalet Sole Six Beds 37-42) and Sunday (Chalet Sole Six Beds 43-51). Arrival and departure days may change during low season or for special fee arrangements.

Discover our Happy Village special offer.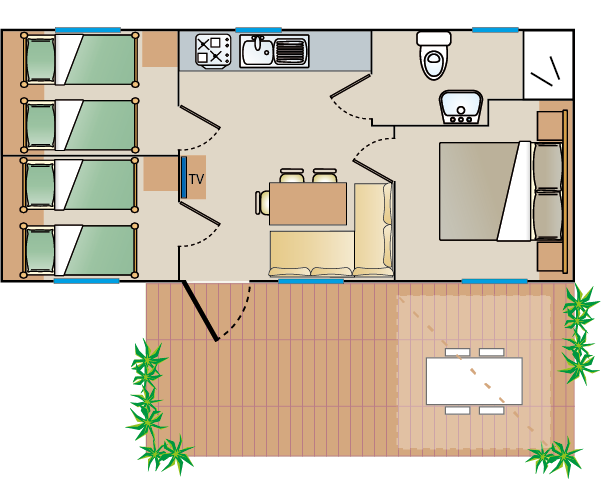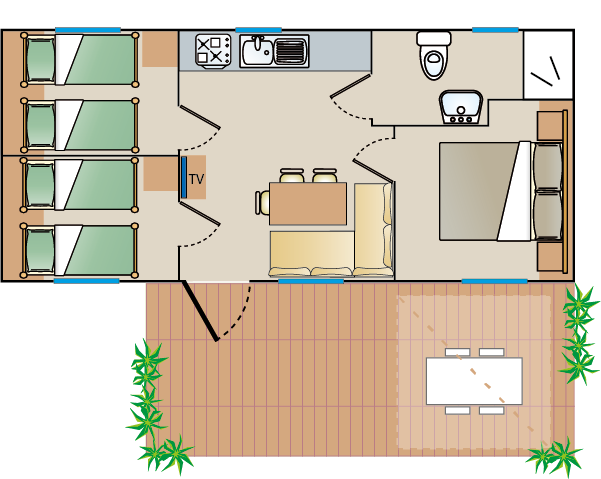 The map given here is indicative
EQUIPMENT AND FACILITIES
Sleeps 6 / 860 x 400 cm
Living room with sofa
LCD TV with foreign channels
Fully equipped kitchen
Fridge with freezer
Microwave oven
Kettle
Italian coffee pot
Crockery
Highchair upon request
Bedroom with double bed 200×160
2 small bedrooms with 2 single beds 200×80
Cradle upon request
Bed rail upon request
Bed linen (weekly change upon request)
Bathroom with washbasin, shower and wc
Set of towels upon request, 

on payment

Clothes horse
Air conditioning and heating unit
Mosquito nets
Safe
Wooden terrace with awning
Garden table with chairs
Private beach area with beach umbrella 

and 2 sunloungers

Private parking space
Wi-Fi area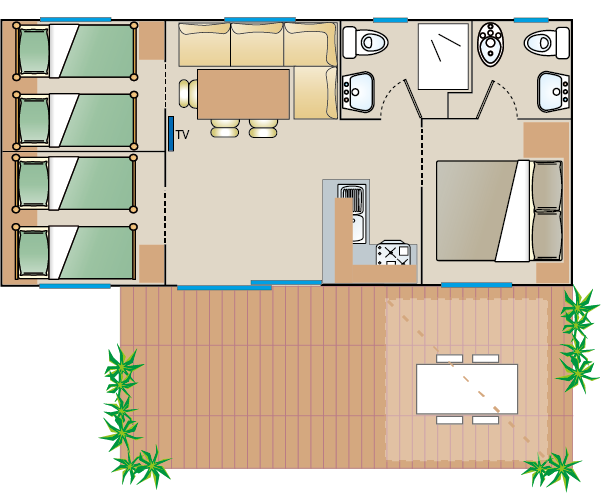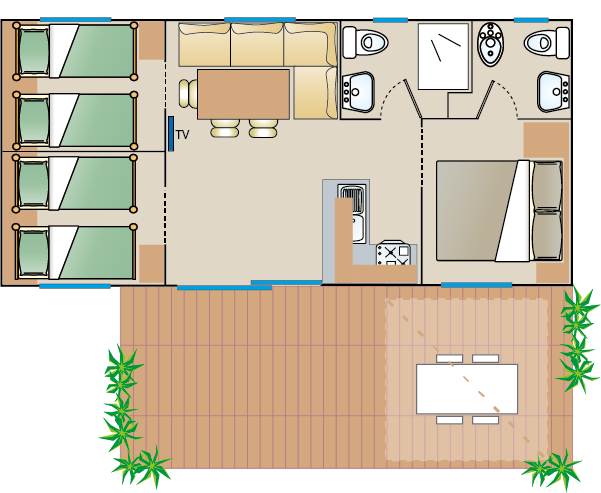 The map given here is indicative
EQUIPMENT AND FACILITIES
Sleeps 6 / 860 x 400 cm
Living room with sofa
LCD TV with foreign channels
Fully equipped kitchen
Fridge with freezer
Microwave oven
Kettle
Italian coffee pot
Crockery
Highchair upon request
Bedroom with double bed 200×160
2 small bedrooms with 2 single beds 200×80
Cradle upon reques
Ber rail upon request
Bed linen (weekly change upon request)
Bathroom with washbasin, shower and wc
Second bathroom with washbasin, wc and bidet
Set of towels upon request, 

on payment

Clothes horse
Air conditioning and heating unit
Mosquito nets
Safe
Wooden terrace with awning
Garden table with chairs
Private beach area with beach umbrella 

and 2 sunloungers

Private parking space
Wi-Fi area
Booking online
Book your holiday