Chalet Natura
An outstanding place to rediscover the rhythms of nature and experience unique holiday emotions in Cavallino
The Chalet Natura of Camping Village Dei Fiori are elegant, fully-equipped units with roomy open-plan interiors and sophisticated design with accent colours inspired by the natural surroundings.
Spacious raised decking made from Brazilian teak adds an additional touch of distinction to these attractive buildings.
Prices from 93,00 Euro per night (low season).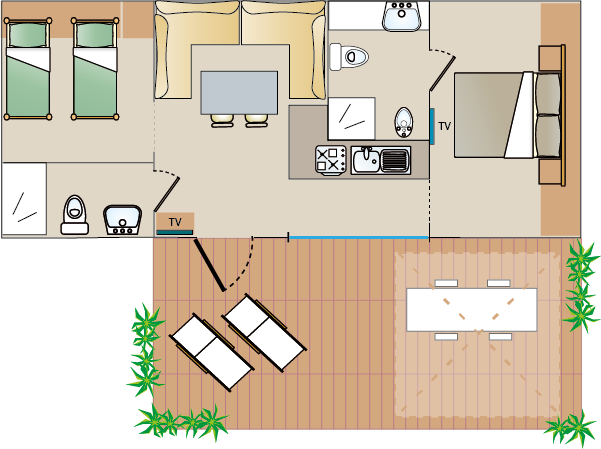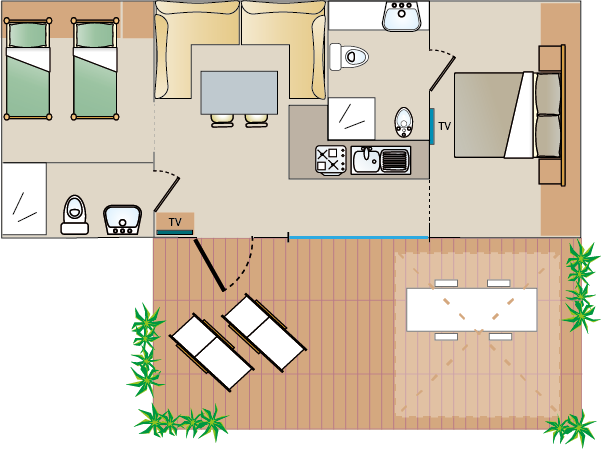 The map given here is indicative
EQUIPMENT AND FACILITIES
Sleeps 4+2 / 1000 x 400 cm
Living room with sofa bed
2 LCD TV with foreign channels
Fully equipped kitchen
Fridge with freezer
Dishwasher
Microwave oven
Kettle
Italian coffee pot
Crockery
Highchair upon request
Bedroom with double bed 195×165
Small bedroom with 2 single beds 200×80
Cradle upon request
Bed rail upon request
Bed linen (weekly change upon request)
Bathroom with washbasin, shower, wc and bidet
Second bathroom with washbasin, shower and wc
Set of towels upon request
Clothes horse
Air conditioning and heating unit
Mosquito nets
Safe
Large raised and partially covered wooden terrace
Garden table with chairs
2 garden loungers
Private beach area with beach umbrella and 2 sunloungers
Private parking space
Wi-Fi area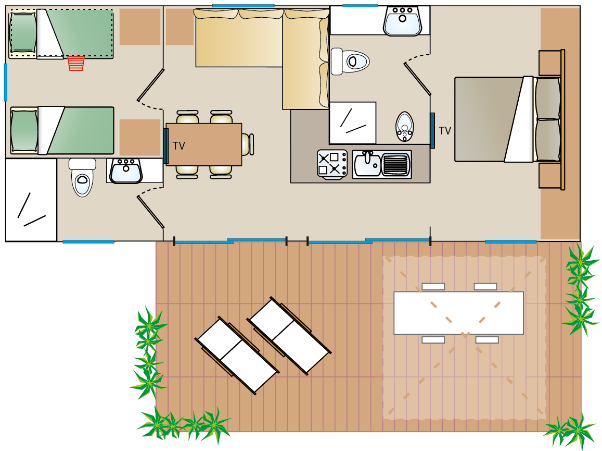 The map given here is indicative
EQUIPMENT AND FACILITIES
Sleeps 5+1 / 1000 x 400 cm
Living room with sofa bed
2 LCD TV with foreign channels
Fully equipped kitchen
Fridge with freezer
Dishwasher
Microwave oven
Kettle
Italian coffee pot
Crockery
Highchair upon request
Bedroom with double bed 195×165
Small bedroom with 2 single beds 200×80 and an upper bunk bed 190×80
Cradle upon request
Bed rail upon request
Bed linen (weekly change upon request)
Bathroom with washbasin, shower, wc and bidet
Second bathroom with washbasin, shower and wc
Set of towels upon request
Clothes horse
Air conditioning and heating unit
Mosquito nets
Safe
Large raised and partially covered wooden terrace
Garden table with chairs
2 garden loungers
Private beach area with beach umbrella and 2 sunloungers
Private parking space
Wi-Fi area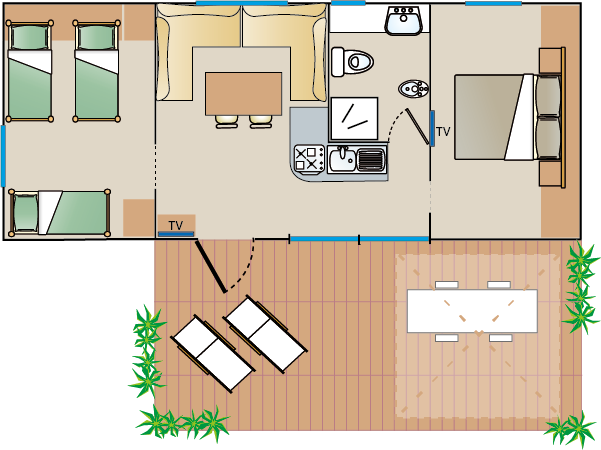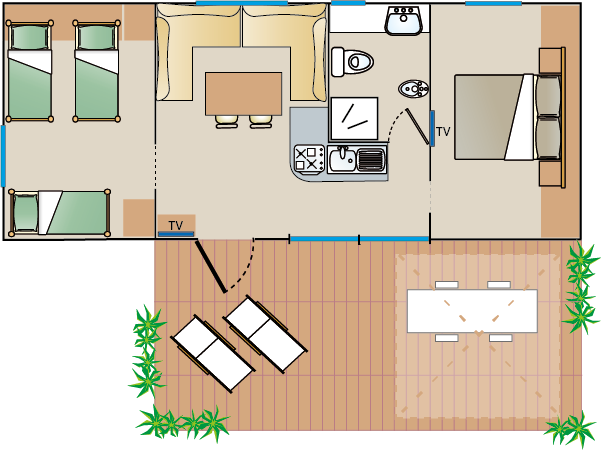 The map given here is indicative
EQUIPMENT AND FACILITIES
Sleeps 5+1 / 1000 x 400 cm
Living room with sofa
2 LCD TV with foreign channels
Fully equipped kitchen
Fridge with freezer
Dishwasher
Microwave oven
Kettle
Italian coffee pot
Crockery
Highchair upon request
Bedroom with double bed 195×165
Small bedroom with 3 single beds 200×80
Cradle upon request
Bed rail upon request
Bed linen (weekly change upon request
Bathroom with washbasin, shower, wc and bidet
Set of towels upon request
Clothes horse
Air conditioning and heating unit
Mosquito nets
Safe
Large raised wooden decking terrace with beach umbrella
Garden table with chairs
2 garden loungers
Private beach area with beach umbrella and 2 sunloungers
Private parking space
Wi-Fi area