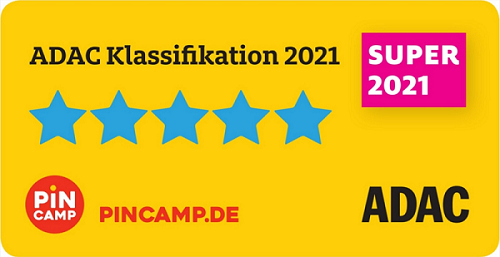 High quality is confirmed at Dei Fiori Village Camping. ADAC, prestigious German Automobil Club gave us 5 stars and  included us in the Superplatz selection: this recognition is conferred to the 2021 best european campsite, only.
Dei Fiori Camping Village has been awarded for the quality of its services and for the care of the facilities. The Camping collected maximum points on the healthy services in terms of quality and quantity. Another prestigious mention was given to the bathing, thanks to its ease direct access to the sea, to the equipment and the care of the beach, swimming pools as well as their architectural value, maintenance and cleanliness.
ADAC also evaluated positively the atmosphere of the campsite (in the private and common areas), the restaurant, the shopping activities (market and bazaar) and the recreational activities (playgrounds, sports facilities, wellness services and entertainment).
In addition to the official rating given by the inspectors, ADAC, through Pincamp portal, check also guests' comments to the en plein air facilities. Dei Fiori Camping is into the first 50 positions, among the 100  best campsites in Italy.
The ADAC 5 stars Superplatz and the mention in the top 50 most popular Italian campsites are two very important recognitions for us: receiving them gratifies us and motivates us to continue our work with the same passion and dedication.