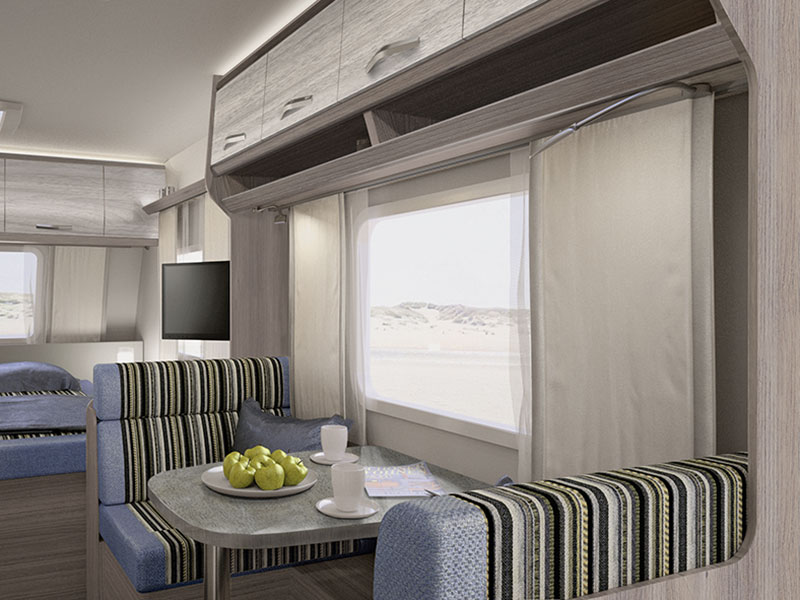 Camping lovers could combine technology with the comfort and the freedom of plein air. 2020 will be in the name of a great news at Camping Village Dei Fiori thanks to the introduction of Caravan Tabberts instead of Caravan Bürstner.
The new Tabberts are the ideal solution for the family who seeks holiday in touch with nature and loves the dynamism and the adventure of the camping. The optimisation of the indoor spaces ensures a sensation of comfort, also thanks to the wide living and the steel kitchen located inside the veranda. The careful selection of finishing and the materials used allows a total immersion in the nature even indoor, due to the shades that reflect the colours of the surrounding pine forest.
The two sleeping areas, one for adults and the other one for youngsters, are equipped with spacious wardrobes and the furniture is enriched with hinges and closure of high quality for a long lasting use and in order to produce less waste, embracing a sustainable approach. 
The ventilation system is also very important: the indoors are ventilated, allowing a free air circulation. This creates a homogeneus and healthy temperature, as well as a feeling of home and intimacy.
Come to discover all the well-being and the practicability of your next holiday at the campsite!