A week-end dedicated to basketball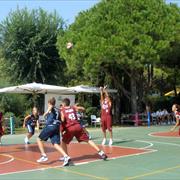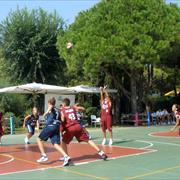 Sport is not only a healthy, fun and enjoyable activity but it is also dedication and attention. All values that are part of the philosophy of Camping Village Dei Fiori and which we are proud to pursue. That is why we have chosen to be one of the resorts of the Cavallino peninsula to host the first edition of the "Trofeo Parco Turistico Cavallino Treporti 2016" basketball tournament.
Saturday 7 and Sunday 8 May 2016, our basketball courts will see the young athletes of some of the most famous teams in Italy compete with each other. Teams include Reyer Venezia, Benetton Basket Treviso, Aquila Basket Trento, Virtus Siena, Juve Pontedera and, of course, the home team, Parco Turistico Cavallino Treporti.
At Camping Dei Fiori we are looking forward to a weekend dedicated to the outdoors, sport and fun with these young Italian basketball champions!